MashiaraQCS's Cookie Exchange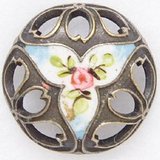 MOM'S SOFT GINGER SNAPS (from Cooks.com site)

This is an especially good Christmas cookie. If baked properly, they will stay soft and chewy. 1 c. sugar 1 tsp. vanilla 1 egg 1/4 c. molasses 2 1/4 c. flour 2 tsp. soda 1 tsp. salt 1 tsp. cinnamon 3/4 tsp. ginger 1/2 tsp. cloves
Cream butter and sugar until fluffy. Add vanilla, egg and molasses; beat well. Sift remaining ingredients and add gradually to butter mixture.

Chill several hours in refrigerator. Shape into balls (about 3/4", these are best if you keep the balls small). If dough is too sticky, thoroughly mix in another 1/4 cup of flour and chill again.

Roll balls in sugar and place in greased baking sheet. Slightly flatten cookie with the bottom of a glass. Bake at 375 degrees for 7 to 8 minutes. Do not over bake. Makes 6 to 7 dozen.