Love at first sight...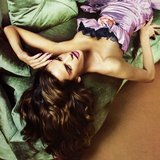 Do you believe in love at first sight? Scientists study our brain activity and say that it's quiet possible but everyone is free to believe or not to believe.


Some people claim that it happened to them and it was like you raise your head, meet those eyes and tell yourself "It is He/She!". Psychologists say that love at first sight depends on our psychological state at the moment. In some case we won't even notice those charming eyes in another they can make a lasting impression on as. Also they say that it takes about 30 seconds to fall in love or precisely speaking to estimate whether the person is worth to fall in love with. By the way psychologists claim that men fall in love first.


Very many factors act in the situation of falling in love from the first sight. These are our ideals, intuition or "fast logic", imagination etc. When you fall in love at the first sight you are usually ready and willing to fall in love. Less possibility that it will happen if you are tired, stressed, solving problems in you mind. Of cause the main part in falling in love is given to the appearance, voice, gestures, smell. One person intuitively searches in the other the qualities and the feature to complete him/herself. Of causes beautiful people attract attention the most, but sometimes it's wrong to fall in love with them easily because those people are experiencing much attention from the people of the other sex all the time and your delightful reaction may simply have no answers.


But if you suddenly fall in love with quiet unknown person and see that it's mutual that may mean even that mother-nature has chosen a partner that genetically suits you a lot. In this case it is like "aha, match!" when someone happens to fill up all the necessary categories like "tall, blond, blue-eyed, looks good, has a style and nice manners, likes me".