Light It Up Blue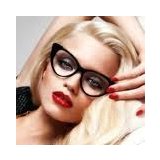 Happy World Autism Awareness Day!
April is Autism Awareness Month, with April 2nd being World Autism Awareness Day.

Autism is a rapidly growing neurological disorder. 1 out of 70 boys and 1 out of 110 people are diagnosed with autism every year. The lifetime cost is around 3.7 million dollars. It has been labeled as an urgent public health concern by the CDC.

My son Gibson is autistic. His symptoms range from mild to moderate, and he does not speak. He is navigating his way through this world and we are helping to understand how to manage ourselves. It hasn't always been easy and I sometimes question, why him? Why us? But he has taught me so much, about myself and my family, and makes me be a better person.

I love this community for always supporting me and my family. Remember autism isn't the tragedy, ignorance is.

I also wanted to let everyone know that I'm on spring break this week. Tomorrow the family and I are heading out on a road trip adventure! Therefore, no Color of Fashion or It Item for this week. I'll be back Wednesday night, see you then!