Ksenia Bradner's Obession: Charlotte Olympia "Fruit" pump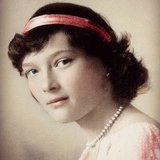 As the face of Charlotte Olympia shoes, of course Ksenia wears her shoes as much as possible. Besides her favorite "Paloma" pumps, her current favorite Charlotte Olympia heels are the "Fruit" pumps.
My favorite look is her Matthew Williamson silk green blouse with Isabel Marant red shorts. Which is your favorite look?