Modern Makeover #85: Jacqueline Bouvier Kennedy Onassis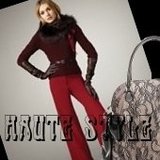 Thank you Closet lover for the "Modern Makeover" win!

I chose Jacqueline Bouvier Kennedy Onassis because her style is the epitome of class, elegance and timelessness. Most of what she wore at the White House in the early 1960's could easily be worn today. I chose to stay with her iconic look for my modern makeover, starting with this Valentino dress. I think it has a timeless quality about it that would have worked back in the 1960's and, as a current designer fashion is up to the minute today. I hope everyone enjoys this challenge!