TANYA80´s 1000 FOLLOWERS "DANCE THE NIGHT AWAY" PRE-NEW YEAR PARTY and CASAH #121:Miu Miu Glitter-finish leather sandals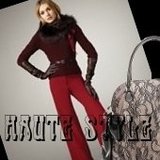 Congratulations on reaching 1,000 followers Tanya! That is an amazing feat that I just can't even imagine! Of course your style and charm are why you have so many followers, and I think I can speak for all of us when I say that we wish you the very best and look forward to more of your unique and beautiful style in the year to come! The champagne and perfume are for you! I hope you'll enjoy your party!

Beautifulnoise, congrats on your recent win! I love these sandals. Sorry for the combo, but I wanted to wear them with this dress to Tanya's party! Hope you don't mind!