Artspiration #70: THE MONA LISAS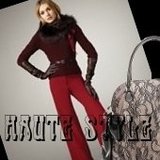 Congratulations Auremil on your Harold Davis win! Your look was stunning and merged so perfectly with the photography!

What an interesting topic you've chosen for us this week! It brings the iconic Mona Lisa into a new light.....literally! From what I've been reading, it appears that the paintings were probably done side by side of the same woman! Therefore, I did only one look, but I think it picks up on the mood of the painting. Hope you like it!