My Style Icon #9: Louise Brooks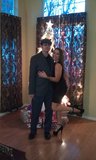 Louise Brooks a 1920's silent film star had a flair for the dramatic. Louise liked to wear lots of daring and glamorous outfits, these pieces were made out of luxurious and exotic materials. Furs, silks, velvets and tweeds abounded in her closet, and buying a piece in any of those materials will make for a glam, Louise-inspired look.

Louise often accessorized her outfits with a 1920′s staple — the cloche hat. These classic hats are still popular and stylish pieces to own today. Add a cloche hat to your wardrobe and you'll have a cute and practical topper that's perfect for chilly winter weather.

Got this info off of A History of Style :) http://www.collegefashion.net/inspiration/a-history-of-style-fashion-inspired-by-louise-brooks/

In the 1920's Art deco jewelery was really popular. With synthetic plastics jewelery become mass produced and more affordable.