The Little Black Dress #68: Julien Macdonald Bead-embellished layered silk dress!!!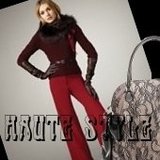 Congratulations Malu82 on your win. As always your styling was impeccable!

As is the dress you've selected for this week's challenge. With something this gorgeous, you really don't need a lot of extras to look spectacular, so I hope you like the mimimalist look I created for it!