Color Combo #20: Teal and Stone / Closet Cleanout#2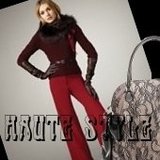 Congratulations Historie Girl on your Red and Pink win! There were so many fabulous looks created for that challenge and yours was the crown jewel!

I love the colors you chose this week, and have had a ton of them in my favorites. Since I'm getting ready to go out of town and trying to scale back my SS time to wrap up before leaving, I decided to do some closet cleanout looks instead of challenges, but this fit the bill for both, so hope you like my teal and stone look!