Nature Inspiration #23 Swiss Alps / Challenge #30: Balenciaga Round Sunglasses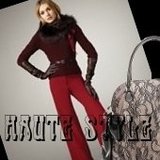 Congratulations Emetso on your Tuscan Countryside win! You've chosen another magical place for our nature inspiration this week! Hope you like the snowy white look I created!

Also hope you don't mind a combo look! When at the Alps you'll definitely need a great pair of sunglasses and these from Balenciaga seemed to fit the bill nicely. Congrats again on your win, Graciously Glamorous, hope you don't mind a second entry for these fantastic shades!