Make It Work #151: Thakoon Western silk-crepe shirtdress / Ballerina Lovers #33: Alexander McQueen Snake Eyes Ballerina Flats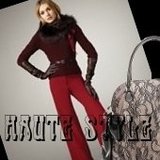 Congratulations magda_ooo and binky on your recent wins!

I love the exotic flavor of the Thakoon dress! What a great selection - the pattens remind me a bit of the henna designs that many Eastern women wear on the hands and feet! I decided to combine these challenges because I think this dress would look best with a flat shoe and I can't think of anything much nicer than the McQueens that binky selected for Ballerinas this week. They'd also show off quite a bit of a henna foot design should a woman decide to echo the patterns of her dress! Hope you don't mind my little flight of fancy and like the look inspired by it!