THE STYLE FILE #13: BOYFRIEND Jeans!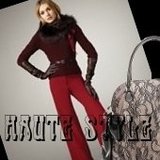 Congratulations Malu82 on your impressive Style File win!

Interesting choice of clothing for this week's challenge! I agree that boyfriend jeans can be a disaster, but they can also be charming. I think the trick to wearing them is to avoid anything slouchy on top, or you'll wind up looking like you really did borrow someone else's clothes! I also like to keep the rest of the outfit at least somewhat feminine to offset the masculine nature of the jeans. The fitted top in the picture could be devastingly sexy with a pair of cropped boyfriends. The look I put together features a crop top, and could be accessorized several different ways.....I went for fun and flirty, but also think nautical accessories for a different look, or pearls for a super girly look! I also think heels, ballerinas, or sneakers like the classic Keds tend to be the best shoe choices.....nothing too bulky or the look could wind up looking somewhat "clunky," as my mother would have said :)

Hope this is helpful and that you'll like my look!