Word Inspired #24: Wonder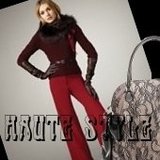 Congratulations on your Russian win, pnklmnade! You really aced that look!

To me, wonder is best expressed through the eyes of a child making new discoveries, and often with a new pet. I thought this photo of the little girl with a kitten expressed this perfectly, so I kept the look simple and innocent to allow the photo to do most of the "talking". I know you're usually not a "minimalist" fan, but in this case, I hope you'll like what I did!

Note to SS friends: This week, especially the early part of it has turned out to be extremely hectic and I've had very little SS time. If I've neglected to visit your stylebook, I apologise and hope to be back in the swing of things later in the week!