Nature Inspiration #26: Cherry Blossom & Modern Makeover #94: Peggy Olson (Mad Men)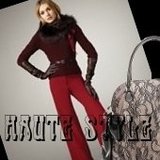 Congratulations Fassionista on your Cats win, and binky on your Modern Makeover win!

You've both given us a fun challenge and I hope you don't mind that I combined them. I think a modern day Peggy would enjoy cherry blossoms just as much a we do, and would probably incorporate some pretty spring pastels into her classic wardrobe. Hope you both like the cherry blossom look I came up with for her, and thank you both for a couple of great challenges!