My Style Icon #15:Julie Andrews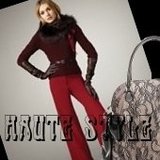 Congratulations on your Stevie Nicks win Beautifulnoise! I adored the fabulous look you created for her!

I also adore your choice for this week's Style Icon. What a talented lady! The Sound of Music will always be one of my very favorite movies! As to her style, at least outside of her Victor/Victoria role, she tends to stay with the classics, and gravitates toward the conservative, but always elegant and feminine end of the style spectrum. So I've dressed her in Valentino, and hope you'll like what I came up with!