ICILAD #74: Valentino Crimson Red A-Line Dress and Heel Madness #53: Stella McCartney Perspex-heeled two-tone satin sandals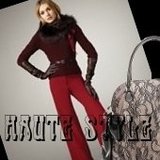 Congratulations classy-101 and magda_ooo on your recent wins!

My internet connection went down and now I'm quite behind and need to do some combos to try and catch up! Fortunately you've both chosen fabulous pieces that just happen to look great together! Hope you'll both like my red and pink look!