Spring is in the Air!!!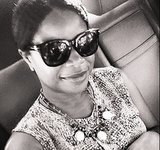 My first look in months! I've been so swamped with new responsibilities at work and haven't been able to do anything extra lately. Making my way to checking out everyone's style books this week and hope everyone is well!I've seen plenty of great outfit inspirations in the past few months but just haven't had the time to comment on all and catch up on challenges.

As for this look, I found this shirt the other day when looking for floral tops and loved the vintage-y look to it. I just wasn't sure how I would wear it though. I decided to pair with some short shorts and heels and try to bring out the colors in the shirt with the accessories and polish. Would probably wear something like this at a casual outing with friends where minimal walking is involved..lol!