My terrace in progress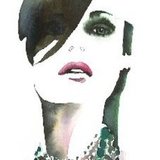 Three years ago i moved from my home of 24 years to a smaller place with no garden. The only thing close to the outdoors is the terrace which as yet has remained neglected. A few weeks ago i saw a this picture in an article on msn and felt inspired to do up my terrace to be able to entertain friends and have breakfast outside when the weather becomes cooler.
Its not exactly like the picture but close enough. I love how everything doesnt necessarily match, makes it much more cosy and welcoming.