COLOR COMBO #27: MINT, GOLD & VALENTINO RED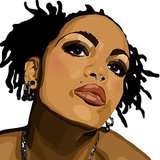 Congrats on your win, Tanya, darling! I loved your amazing look. What a cool color combo you've chosen for us this week. I had big fun putting it together.

I had collected these illustrations forever ago, and I am so pleased to be able to get to use them in this challenge. I just wish I had saved the illustrator's name, but that was before I recognized the importance of giving credit to these amazing artists. So if anyone knows, please tell me.

Hope you like!!!