The Women #99: Freida Pinto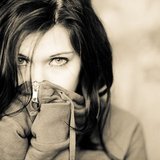 Oh my gosh, thank you so so very much anncaye for selecting my Kate Bosworth look!!

This week, I'd like to go with the award-winning Indian actress Freida Pinto, star of films such as Slumdog Millionaire and Rise of the Planet of the Apes. Not only is she extraordinarily talented, but her style is totally enviable. She takes risks with her looks and she's always wearing gorgeous colors. She's definitely the celeb who's closet I would raid if given half the chance (and lost another 15lbs or so :P)

Have fun ladies!