Modern Makeover #103: Femme Fatale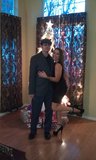 Congrats Binky on your win!!!

This week's pick was kind of hard and I changed my look several times. I came to this look because I like how simple it is. Wikipedia says a Femme Fatale is a mysterious and seductive woman. And what is more seductive then red. I love the song "Lady in Red" by Chris de Burgh and this look reminds me of that song :) Hope you like it Binky!!