Ksenia Bradner in Milly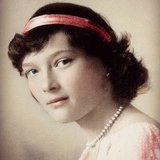 Tom Hardy and Ksenia Bradner attended the 'Be Amazing' Stand Up Volunteer Initiative at Madison Boys And Girls Club in the Brooklyn borough of New York City on Tuesday afternoon.

Both stars kept their look super casual.

Tom wore a black sweatshirt with jeans, whereas Ksenia of course was a bit more polished.

She looked adorable in a Milly dress with a gorgeous printed silk skirt.

Ontop of having the best heels collection in Hollywood, Ksenia also has an amazing collection of flats; she wore gorgeous lilac python Alexandre Birman "Dahlia" ballet flats.

She paired her dress with a Forever 21 yellow headband and a cute Modcloth red mustache ring.