CHALLENGE #7: MULTIPLE PERSONALITIES: VOGUE EDITOR-IN-CHIEF &COLOR OF FASHION #143: CLEMENTINE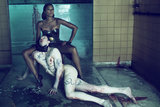 Secretly after watching The Devil Wears Prada, I wanted to be a fashion editor. So in my opinion this is what I would wear during the summer months.

Harperleo never fails to to disappoint. I love this color, and have always favored orange toned shades.