Olympic Fashion Going for Gold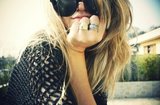 I love the Olympics and am so glad the games are about to begin. So happy for my 3 OKC Thunder players for making the Olympic Basketball Team! (In the photo.. Westbrook, Durant and Harden of Oklahoma City Thunder)

Hope everyone is doing great!!! I am off to watch the opening ceremony in my red leather jeans... :)
XOXO!!