Ksenia Bradner in Oscar de la Renta Pre-Fall 2011 & Wes Gordon Fall 2012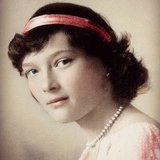 Ksenia Bradner was mobbed by fans and photographers as she left her hotel in Bucharest, Romania, to attend her concert yesterday evening.

She looked super chic in an Oscar de la Renta Pre-Fall 2011 fur coat over a Wes Gordon Fall 2012 silk cocoon combo dress with a metallic leopard skirt.

Her luxurious and chic look is worthy of Anna Wintour (sans Nicholas Kirkwoods and Miu Miu bag, of course).

Predicting a fur debate, Ksenia tweeted, "For us Russians, fur has always been a practical way of staying warm. Nothing beats layers and fur. But in this century, fur is a choice. At the end of the day, I choose fur because honestly, there are other things I deem more important to fret about than wearing fur. I know that is going to be offensive to many, and PETA will hate me, but that is my long-standing view."