Ksenia Bradner in Oscar de la Renta 2012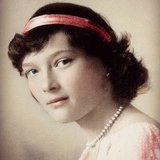 Ksenia Bradner made a guest appearance on 'Good Morning America' earlier today at Rumsey Playfield, Central Park in New York City to promote her new action movie 'Endgame.'

She was her usual lovely self in an Oscar de la Renta Pre-Fall 2012 dress.

She gave the look a Ksenia touch with pretty Ethne flower earrings, an Ethne butterfly ring and Jimmy Choo "Elazer" gold slingbacks.