CHALLENGE #18: Multiple Personalities: BRIDE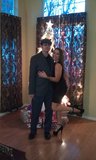 Congrats Tanya!!!

So here's my story.... When i was 24 I got married to my high school sweetheart :) We had my 1st son a week before. I wanted a lavish wedding like most girls do. To feel like a princess for a day. It's like your birthday but BIGGER! Unfortunately my family is poor teehee and so is my husbands family. So with my sister as a witness and her disposable wind up camera, my soon to be husband and I headed to our local court house. We were giggly and nervous although at this point we have been together for 8 years it seemed as if in that moment we were truly grownup. We said our vows to the sound of click....wind wind click! It was special and intimate and $100.

I would love to renew my vows in Hawaii with my family there. This is something I would love to wear: beautiful princess dress, HOT PINK shoes ;) and a romantic square cut diamond on my finger. My husband gave me a diamond ring for christmas when i was 19 and that is THE ring i wear. We didn't bother getting a "wedding" ring cause this one was my first and I love it, but as a girl loooves diamonds ;) I would like another eventually teehee!!!