Movie Moment #93: Finding Nemo & Palettespiration #116: Find Nemo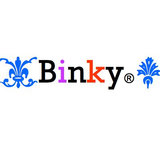 Thank you so much CZF3 for picking me winner of the Princess Diaries challenge, it was a fun one and I had a blast creating my look so to find out I've won was truly the cherry on top, thank you! :) And congratulations Tanya80 on winning the Mistletoe challenge, your look was so amazing, I'm happy for your win. Apologies for the combo, but I won't be here tomorrow so I still must do this. :)

I admit, Tanya80 gave me the idea to choose Finding Nemo as our movie of the week when she set the palette "Find Nemo" in this week's Palettespiration, because I want a legit reason to combine and because after I saw that palette I can't get Finding Nemo out of my head so I decided to roll with it. Plus, despite being an animated movie, I LOVE Finding Nemo. It's the first ever animated movie that made me tear up a little bit at the end. :) After reading such terrible news this past weekend, I think we all could use a little pick-me-up, and this palette (plus the movie) seem like the perfect combo.

Hope you like what I've come up with and thanks Tanya80 for another great challenge. Enjoy this week's Movie Moment everyone!