Cartoon Your Fashion #58: Daria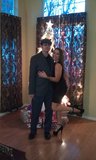 Congrats on your Princess and the Frog win Binky!!! I love this weeks cartoon challenge. I did watch this show and i knew a guy in real life name tristan but looked just like trent. I had a mean crush on him ;)

Btw i know she wears a black skirt but this green one was in my closet and i loved all the pleats ;) found a few rusty orange tops to go with the look but didn't like the way it layed out so i skipped them hope you don't mind .