Beautyblender Beauty Blender - The Original Beauty Blender Single (N/A) - Beauty
Details
Zappos.com is proud to offer the Beauty Blender - The Original Beauty Blender Single (N/A) - Beauty
You want to look like a movie star but have the budget of a newbie makeup artist. Well, lucky for you that you know the secret to incredibly flawless skin - The Original Beautyblender, the ultimate makeup sponge applicator!
The patent-pending elliptical shape makes application foolproof by allowing you to access hard-to-reach areas with ease.
Its unique curves fit the contours of your face, leaving your makeup undetectable.
The suede texture is soft to the touch.
Latex-free, non-allergenic and free of any odors.
To use: • Bounce Beautyblender against your face when applying makeup. Bouncing, called stippling in the makeup world, blends makeup without creating changes in the texture or tone of your skin. Use the pointed side for the nose, mouth and under the eyes. Use the round base for foundation and blush on the larger areas of your face such as forehead, cheeks and chin.
Zappos Couture
Free Shipping and Returns
Overall Product Rating
1 Review
Fit is True to Size
Quality is Excellent
Product Reviews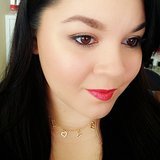 Fit: True to Size
Quality: Excellent
Flawless finish
This sponge is so soft and cushiony, very gentle on the skin and it blends perfectly. Easy to moisten, easy to clean and it lasts a long time with minimal staining and never any tears.
Brand Reviews
Quality brand, highly recommend!