Beautyblender Makeup Sponge Applicator
Details
beautyblender is the world's first edgeless, non-disposable, hi-definition cosmetic sponge applicator designed to give you a finish that looks like it's been airbrushed by the professionals. Created on set by celebrity makeup artist Rea Ann Silva, the beautyblender features a unique shape to ensure impeccable, streak-free application with minimum product waste. Use it with concealer, primer, foundation, powder cream blush or any other complexion product. How to use: Wet the beautyblender with water and squeeze out the excess liquid using a towel if available. Then, apply your product to the makeup sponge and bounce it across your face for flawless results.
Latex-free; odor-free.
Non-allergenic.
Winner of Allure magazine's 'Best of Beauty' award for Best Sponge, 2013.
By beautyblender®.
Nordstrom
Free Shipping Free Returns Everyday!
Overall Product Rating
5 Reviews
Fit is True to Size
Quality is Very Good
Product Reviews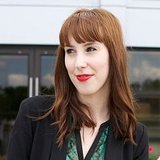 Fit: True to Size
Quality: Very Good
Best applicator
I never can get a flawless/airbrushed look after applying makeup but with this sponge it makes it super easy. It's all about how you apply it.
kkim44 - Review from Nordstrom
Just a little more...
I agree with everyone else who has said that this product applies foundation really well. My face looked flawless and airbrushed...it really was too good to be true! Well, the real drawback for me was cleaning the beautyblender. I didn't apply more than a couple dots of foundation but I decided to try the "solid" soap and clean the sponge. While I was cleaning, it felt like I was going to shred the thing just by gently cleaning it! After it dried...sure enough there was a little bit of a tear at the base of the sponge. I really wish it would have been a bit more dense. Good price point, but you may need to replace the product often if you are a germaphobe or prone to breaking out if your applicators aren't super clean.
fenn17 - Review from Nordstrom
Beauty Bender!
Now I know what was all the hype about. When I start using the sponge I saw a difference in how my makeup look immediately. The application was better, more natural and blended. the only thing I didnt love was the price but is a good investment if you do your makeup a lot. Im hoping it will last me more than a year. So in my opinion dont waste your money in other cheaper versions and get this one.
Heamo - Review from Nordstrom
Very nice applicator
I have been using this sponge for a week now and am pretty happy with it. I am not sure what that other reviewer was talking about, but I've had no problems with pink residue on my sponge. Works wonderfully with all foundations. Plus you can wash and reuse. Love the pointed tip for under the eyes and around neckline.
NyLax - Review from Nordstrom
Nice product
I read plenty of reviews about this sponge before I made my purchase. After receiving it and using it I realize that I could have just gotten a dupe from that bay bid site instead. Nothing amazing about this applicator. I recommend washing it couple of times before using it. After washing and using it three times I was still getting pink residue from the sponge dye.
Brand Reviews
Quality brand, highly recommend!