Deborah Lippmann Ruby Red Slippers Nail Lacquer
Details
Precision, high resistance and high protection nail color. Available in Ruby Red Slippers—Dorothy's shimmering ruby (glitter).
Neiman Marcus
Free Shipping and Free Returns on any order.
Overall Product Rating
1 Review
Fit is True to Size
Quality is Excellent
Product Reviews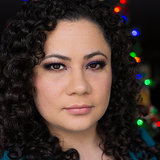 Fit: True to Size
Quality: Excellent
Vampy and Gorgeous
This is a deep, very sexy and vampy red with a black base. I think it looks best in 3 coats. Application is great. It has the top quality I have come to expect from Deborah Lippmann polishes. Wear time is pretty average, but in my experience that is also dependent upon what base and top coat you use.
There are no reviews for this brand. Be the first!