Essie 'Mirror Metallics - Nothing Else Metals' Nail Polish
COLOR
SIZE
Details
Colors to die for! And they just keep on coming! Dominating the nail color world with the added benefit of an award-winning, chip-resisting formula. Mirror Metallics are formulated with aluminum pearls, reflecting molten hot color from every angle. One premium metal that flaunts high fashion style.
C : Cream.
F : Frost
G :Glitter.
S : Sheer.
SH : Shimmer.
0.5 oz. each.
By essie®.
Nordstrom
Free Shipping Free Returns Everyday!
Overall Product Rating
2 Reviews
Fit is True to Size
Quality is Excellent
Product Reviews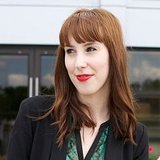 Fit: True to Size
Quality: Excellent
Favorite metallic nail polish
I love metallic nail polish because it's versatile and can go with almost any outfit. Essie's metallic nail polish is true to its color and it's easy to apply.
MegRM - Review from Nordstrom
Love the color
I absolutely love this color! Goes on pretty much opaque in only one coat too. Always a plus. Great formula, easy to apply.
Brand Reviews
Love this brand. The durability of their polishes is fabulous.
Essie never disappoints! They always out do theirselves with each new polish!