Hunter Original Tour Buckled Welly Boot, Red
SIZE
35.0B/5.0B,
36.0B/6.0B,
37.0B/7.0B,
38.0B/8.0B,
39.0B/9.0B,
40.0B/10.0B
Details
Vulcanized rubber is pleasingly glossy, waterproof, and easy to clean (mud just wipes right off).
"Hunter" logo prominently placed on front.
Chain-embossed detail along rim of shaft; side buckle.
Quick-dry knit lining with comfy cushioned sponge insole.
Natural rubber construction that can be rolled.
Comes with a Hunter branded drawstring bag.
Lightweight packable
Calendered rubber sole for maximum traction.
1" heel.
Shaft height varies with size, 15"H (for sizes 5-7) or 16"H (for sizes 8-10).
Imported.
Neiman Marcus
Free Shipping and Free Returns on any order.
Overall Product Rating
1 Review
Fit is True to Size
Quality is Excellent
Product Reviews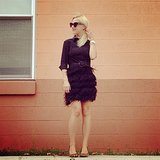 Fit: True to Size
Quality: Excellent
Year-Round Staple
I absolutely adore my Original Hunter Wellies- not only are they the perfect rainy day piece, but they fit perfectly and are versatile for year-round wear. When paired with the Hunter sock (my pick is the grey cable knit) they're cozy for winter and more water-resistant than any winter boot I can find. Besides- the color pop is not only stylish, but adds an extra kick to any outfit. I love to wear my wellies with leggings, skirts, skinny jeans- you name it. Throw on a pair for a summer festival (they can get muddy), a spring monsoon, a fall sprinkle or day in the winter wonderland. Your feet will thank you!
There are no reviews for this brand. Be the first!